S'pht
From Traxus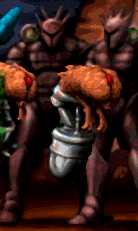 The S'pht are a cybernetic race enslaved by the Pfhor. They are capable of interfacing with the Marathon's computer systems, hence the Pfhor using them to launch attacks on the ship's artificial intelligences and the Marathon's networks in general.
Historically, there were eleven clans of S'pht: S'pht'Lhar; S'pht'Hra; S'pht'Nma; S'pht'Kah; S'pht'Vir; S'pht'Yra; S'pht'Val; S'pht'Shr; S'pht'Mnr; S'pht'Yor; and the S'pht'Kr. These clans did not, however, coexist harmoniously and many wars were fought between them – many of which resulted in the total annihilation of certain clans. The S'pht'Kr, whom could no longer bear to watch the massacres, abandoned the S'pht home world of Lh'owon and settled on the planet's third sister moon, K'lia – thus escaping enslavement when the Pfhor invaded the planet.
The eleventh clan (the S'pht'Kr) is first encountered in Marathon 2, where the ancient S'pht AI, Thoth, calls them to Lh'owon after having been reactivated.
A list of S'pht units found in Marathon can be found at Category:S'pht.
Rampancy
| | |
| --- | --- |
| | This section is a stub. You can help the Traxus project by adding to it. |
Consciousness
F'tha, a S'pht compiler, remarked that the S'pht consciousness is like a body and the S'pht royalty are its mind.[1]
| | |
| --- | --- |
| | This section is a stub. You can help the Traxus project by adding to it. |