Pistol
From Traxus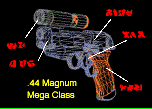 The Pistol is the basic firearm in the Marathon series. Its technical name in Marathon is the ".45 Magnum Mega Class," but in Marathon 2: Durandal and Marathon Infinity, it is the ".44 Magnum Mega Class A1." A shot from the pistol averages 24 damage, which means that 7 shots are needed to kill another player.[1]
A player starting the game will have one pistol and three spare clips unless the map is flagged as a "Rebellion" level.
Technical information
Damage statistics
Timing
Ammunition
Rate of fire
Miscellaneous
| | |
| --- | --- |
| | This section is a stub. You can help the Traxus project by adding to it. |
Tactics
Snipe enemies from range and make use of the Pistol bullet's accuracy, invisibility and speed.