Fusion pistol
From Traxus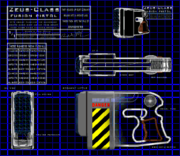 The Fusion Pistol is a weapon wielded by the player-character. It can fire small and large energy bolts which will average 35 and 90 damage, respectively. The large bolts will also trigger switches, but require a recharging of the gun between shots. The fusion pistol is powered by a Fusion Battery which will supply enough power for 20 small bolts or 4 large bolts. The maximum storage capacity for batteries is 25.
Firing the fusion pistol under liquid will case the bolt to immediately discharge, causing damage to anyone around the gun, including the player who fired the shot.
Fusion pistols are especially effective against mechanical enemies such as Hunters and Cyborgs.
The technical name for the fusion pistol is the "Zeus-Class Fusion Pistol".
Technical information
Damage statistics
The Fusion Pistol does 30 to 40 hit points' worth of Fusion Bolt-type damage when normally fired.
The Fusion Pistol does 80 to 100 hit points' worth of Fusion Bolt-type damage when overloaded.
Timing
The Fusion Pistol takes 10 ticks, or 10/30 of a second, to ready.
Ammunition
The Fusion Pistol has a clip of 20 fusion shots and 5 overload fusion shots.
A maximum of 30 fusion batteries can be carried, except on Total Carnage difficulty.
Rate of fire
The Fusion Pistol's attack takes 9 ticks, or 9/30 of a second, to completely finish.
Miscellaneous
| | |
| --- | --- |
| | This section is a stub. You can help the Traxus project by adding to it. |
Tactics
Use the slow speed but fast fire rate of the fusion pistol to flood a room with fusion bolts, forcing the enemy to take hits. Keep an overload at hand at all times, because an overload shot is harder to dodge and does good damage.
Fusion bolts can affect invincible characters. (M1.25.2.1)
Held overloads will fire upon death. (M1.25.2.1)
Non-combative uses
Shooting an overloaded fusion shot at switches will trigger them; some switches even need shooting to activate them. Shooting circuits will toggle or destroy them in the same way that attacking them with a fist, shotgun or grenade will. In Marathon 2: Durandal and Marathon Infinity all switches and circuits are able to be weapon triggered. This was intentional in order to provide players the ability to strictly comply with the Vidmaster's oath. There are some switches in Marathon that are inaccessible from the ground, requiring alternate means to trigger them.
Behind The Scenes
Bungie used the concept and features of the Fusion pistol as the main points of reference for the design of the Plasma Pistol from the Halo franchise.
See also
The Newbie Guide: A short discussion on the multiplayer usefulness of the fusion pistol.